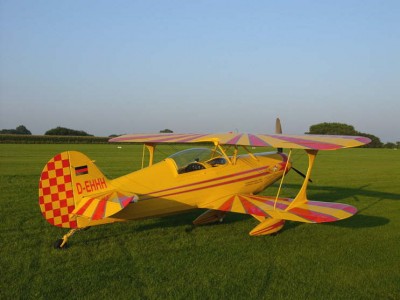 It all of a sudden feels cold and miserable out there, so this is a good time to start a new project. For many a year I have wanted to build a nice biplane. The thoughts have gone from a Waco to a Starduster, or Acroduster. I finally settled on a Skybolt. The main reason for this choice at the moment is that I do have a set of Wendell Hostetler drawings, and I have located a live example not too far from home. Those two things should be enough to get started. The Hostettler plans says it has a 77¨ span, (194 cm in real money) 170cm long. This makes it transportable. Recommended engine says ´Quadra´(Don´t think you needed to spell out the size of the engine in 1997, there was only one size.), all up weight supposed to be 10 kg. Prop something 20×6. Of course this all sounds as if my trusty MVVS58 will do very nicely indeed. I even found an engine template stuck to the drawing already 😉
I have been tossing this around for a while, on the one hand contemplating making a new 2015 version of the plans, on the other hand, just start building. If you like it, you can build a round version with all the mods you think you need. And of course, building it the original way from the plan is in itself a ´historic´ job.
There appears to be a large amount of info available on ye interweb, so I will have to weed through all that too.
Anyway, with the mind set into gear, it is now a proper project. First some links I found for inspiration:
Flying wires (site appears hacked)
I probably do the smart thing and make a mockup of the engine/cowling/exhaust, just to see if it will all fit. The Quadra used to have a NoExhaust, I won´t get away with that! First thoughts are to try and hide a custom exhaust somewhere on the inside of the fuse.
Just spotted this add on Barnstormers.com,  and  this bit: Aeroclub NRW.  I hope they are not selling this one!
2019  update: This one never made it, but I did start the Acroduster!